SMARTfit Trainers Deliver Functional and Cognitive Speed Training for Small Groups
BY: FG Team
31 August 2015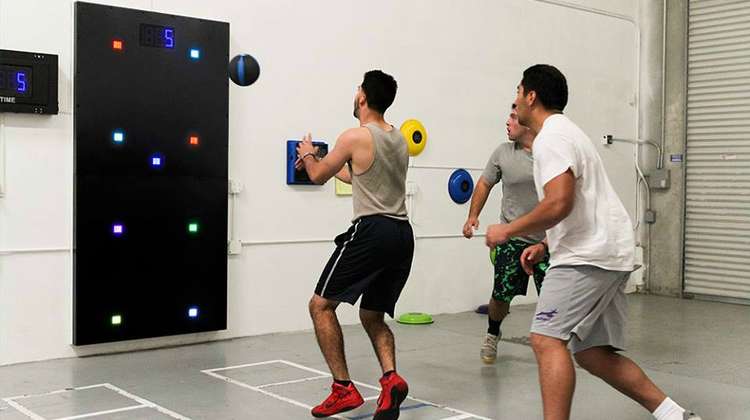 images: MULTISENSORY FITNESS
SMARTfit Trainer Single and SMARTfit Trainer Mini deliver functional, sports and cognitive speed training for up to six users.
The SMARTfit Trainer Single and SMARTfit Trainer Mini are two multifunctional interactive trainers developed by Multisensory Fitness, designed to deliver different types of training to individual users and groups of up to six participants. The innovative products are developed for functional training, sports training, high intensity cognitive speed training, Small Group X and personal training.
The SMARTfit Trainer Mini challenges users to play cognitive games while playing ball, running, balancing and doing core stabilizing workouts. To play, participants must use strategy and technique and think quickly on their feet while controlling the ball, managing footwork and doing exercises that require balance, agility and speed. The trainer uses alphanumeric targets displaying letters, symbols, numbers or colours to drive a range of cognitive games such as Simon Says, Action Match and Chase the Alphabet.
The SMARTfit Trainer Single uses interactive targets to deliver cognitive speed training and improve participants' overall physical and neurological fitness. The targets can be struck with a hand, foot, hand weight, ball or bean bag, and the games available with the trainer create a fast, highly motivational training environment for users of any age.
Both trainers use SMARTfit Performance Pods to extend the training environment, offering users a 360-degree space to play. The trainers are compatible with wired and wireless SMARTfit pods and require at least 6' of wall space for installation. They can be used in gyms, fitness centres, functional training rooms and similar spaces, where they can add a playing area between 6'x6/12′ and 12′ x 20′ in size.
Several versions of the trainers are available and they come with different sets of interactive stations and multifunctional targets. All SMARTfit trainers are designed for long-term durability and come a warranty and free software upgrades.
To learn more about the SMARTfit Trainer Mini and see it in action, watch the video below.