Nexersys Combines Boxing and HIIT with Intelligent Gaming Technology
BY: FG Team
12 September 2014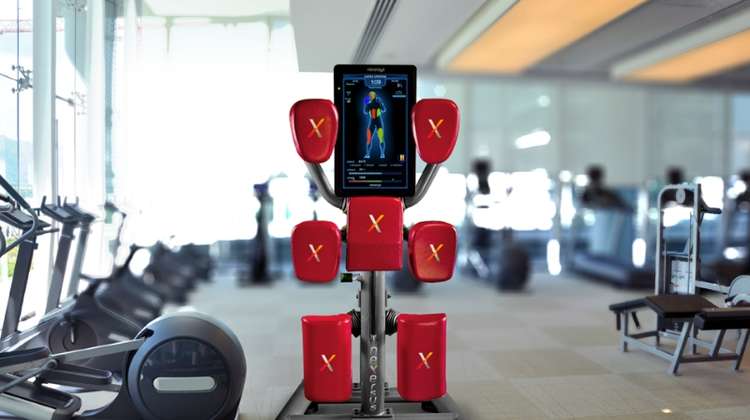 images: NEXERSYS FACEBOOK
Nexersys commercial fitness machines use intelligent gaming technology to deliver high-intensity interval training.
Nexersys is one of the featured exhibitors at the inaugural FIBO China, which runs from September 10 to 12 in Shanghai. The company is known for using advanced technology and intelligent software to develop intense workout machines that deliver the benefits of a personal trainer and high-intensity interval training based on boxing and MMA-style workouts.
Nexersys fitness machines offer high impact cardio training, strike training, core building workouts, avatar sparring and multiplayer gaming, all on a single unit. They are suitable for users of all fitness levels and designed for both Traditional and Southpaw stances. Along with endurance and fitness, Nexersys machines help users improve their reaction time and mental acuity.
The company's commercial model, designed for gyms and fitness studios, uses seven leather-covered strike pads and three axis accelerometers that deliver strike count and feedback on accuracy and power. The units have a large, heavy frame, designed to withstand frequent use at gyms. A computer with a 21.5'' touch screen monitor turns the workouts into an interactive experience.
The Nexersys fitness machine can store personal profiles for up to 200 users and display real-time results as well as a complete workout history to make it easy for users to track their progress over time. The software includes Try Me and Quick Start features, which challenge users to start training with the machine whether or not they have any prior experience with it. The training software program can create a personalised fitness experience for each user based on his or her workout history.
The Nexersys Commercial Model is used by top commercial gyms including Gold's Gym, YMCA and Snap Fitness, and can also be found on several U.S. Naval aircraft carriers, universities, hotels, and first responder facilities across North America, Europe, Asia, and the Middle East. To see the machines in action, watch the video.
Related articles:
Inaugural FIBO China Trade Show Announced for September
Nexersys' King of the Ring Presented at Nerd HQ