StepManiaX Combines Dance with Addictive Gameplay to Deliver Intense Energetic Workouts
BY: FG Team
21 March 2022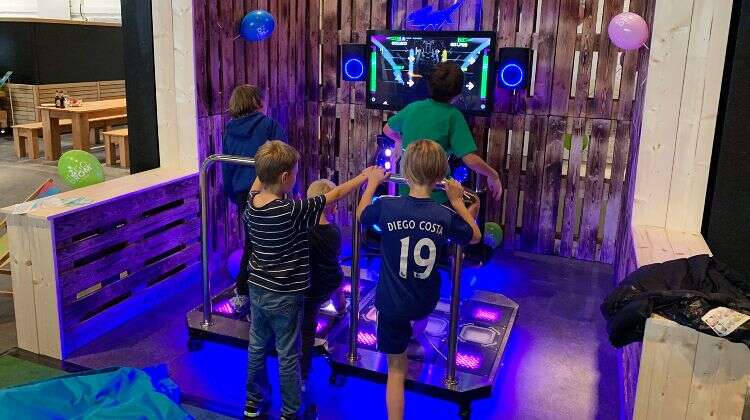 images: STEP REVOLUTION
StepManiaX offers a dance-based gameplay experience combining catchy music, LED lights and a range of energizing songs to engage players into active dance games and competitive play.
StepManiaX combines dance with competitive gaming to engage players in a fun, energizing play. Developed by Step Revolution, the dance game platform challenges players to keep in step with the beat of the music while following cues on the screen. It offers a versatile range of dance-based workouts and can be used in many fields, from fitness and health clubs, family recreation and amusement centres to schools and e-sports competitions.
The basic gameplay involves one or two players dancing on five-panel stages to the rhythm of different songs. To score points, a player must step on the stage and watch the displayed instructions in the shape of arrows that describe the rhythm to match these to different positions on the stage (left, right, up, down, centre). The centre position, which distinguishes StepManiaX from similar dance games, introduces an additional challenge, as it prevents players from using only minimal movements, which makes the aerobic workout more intense.
The platform uses a large touchscreen with a navigation system that is simple to use for users of all ages. It is designed to withstand frequent use and keep maintenance requirements to a minimum. The hardware brings together traditional pressure sensors, LED lights and industrial design to deliver a resilient, visually appealing gaming stage and a highly engaging play experience.
The software interface, which has an 80s retro feel to it, introduces users to more than 300 catchy, high-energy songs of different genres and multiple levels of difficulty for various modes of play. There are four modes of single difficulty (basic, easy, hard, wild) and three modes of double difficulty (dual, full, team). The StepManiaX software works only with this particular platform, but the platform can also be used with other software.
To meet the needs of different end-users and venues, StepManiaX offers a wide range of possibilities, allowing users to customize the lane effects, note skin, speed and various other settings, while the StepManiaX mobile app allows players to monitor their latest scores and results. The StepManiaX software and content will continue to be updated via network support to ensure that users of all levels always have new gameplay options to explore.
Step Revolution specializes in developing reaction-based rhythm games and interactive entertainment products designed to engage users and keep them active and social. Based in Camas, Washington, the company offers a range of innovative products that provide endless fun and can be used in a variety of settings. These include the rhythm games DittoBeat Mobile, ReRave Plus Mobile and the REVO Touch Screen Kiosk Cabinet.
StepManiaX machines have been installed in many locations, including elementary schools, YMCAs, athletic clubs, fitness centres, trampoline parks etc. Watch the video below to see the experience StepManiaX delivers.