Nebula Interactive Wall for Active Play and Fun
BY: FG Team
27 November 2015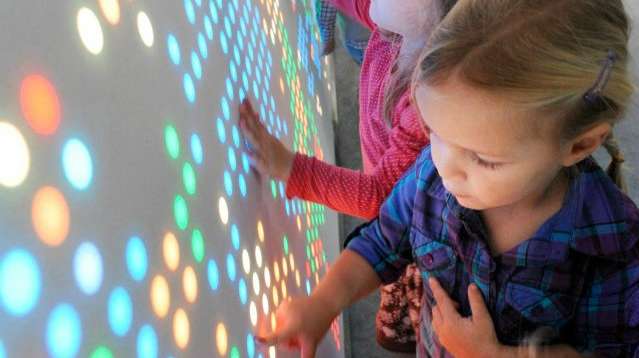 images: NYOYN FACEBOOK, METATRONICS
The Nebula interactive wall offers hours of entertainment for children, seniors, and anyone looking for a fun, imaginative way to stay active.
The Nebula is an interactive wall that uses thousands of LED lights and advanced interactive technologies to keep children and adults engaged in unique interactive experiences for hours at a time. The lights contain sensors and the wall is designed to respond to touch by emitting light, allowing users to play with the effects that they create.
Designed by the Dutch active gaming company NYOYN, the Nebula wall of light was first presented at the KindVak trade fair in 2010. It is designed to engage the players' imagination and motivate them to keep moving in a relaxed interactive environment. It offers a versatile range of interactive games and limitless possibilities, which make the wall suitable for many different environments and settings, from big events to game halls and public places. The Nebula can bring any environment to life. It is made to measure and comes in varying sizes, which means that it can fit into any location and be fully integrated into any environment. It can be used as a fun interactive light wall, or as a mobile product, and take up as much or as little space between the floor and the ceiling as the client wants it to.
The wall can be used in rehabilitation and physical therapy as it allows duo therapies and delivers activities that are both playful and challenging. The product has already been successfully integrated into care programs, including physical therapy, occupational therapy, and speech therapy. It provides a tool to support health care and medical professionals, and can also be used simply to create a relaxed atmosphere.
The Nebula interactive wall can also be used in educational environments, as it provides children with a wide range of challenges and allows them to develop their motor skills and learn social interaction through a fun competitive gaming experience. The wall allows children to play various educational games unsupervised, which makes the experience easier for teachers as well. The Nebula is also used in nurseries and child care facilities.
The wall can be an excellent choice for malls and shopping centres, where it may be used to draw attention to specific products or brands, or simply to support social interaction by bringing people closer together. Similarly, the Nebula can turn waiting areas into fun environments by displaying messages in a unique, eye-catching way.
The Nebula wall provides a wide range of content suitable to diverse groups of users, and the content can be made to measure as well, allowing players to stay active and play with a variety of light effects that they can create. The technology that the Nebula uses is designed to stimulate the players' senses with light, touch and sound, and the activities users can enjoy with the wall include drawing, developing motor skills, and playing different games. The wall is highly adaptable, and can be designed to meet the needs of any location.
To see how the Nebula works, watch the video.